Fashion's Finest Party Hard After Paris Couture Week
Paris Couture Week is never just about fashion. Models, designers, and their famous celebrity entourages usually go from runway to dancefloor during the weeklong fashion extravaganza. Who could blame them? After the long, arduous task of creating magic on the runway or stylishly watching from the sidelines, it's only fair that the fashion who's who be treated to a well-deserved night of wild abandon. It's Paris––so the parties are guaranteed to be just as spectacular as the fashion.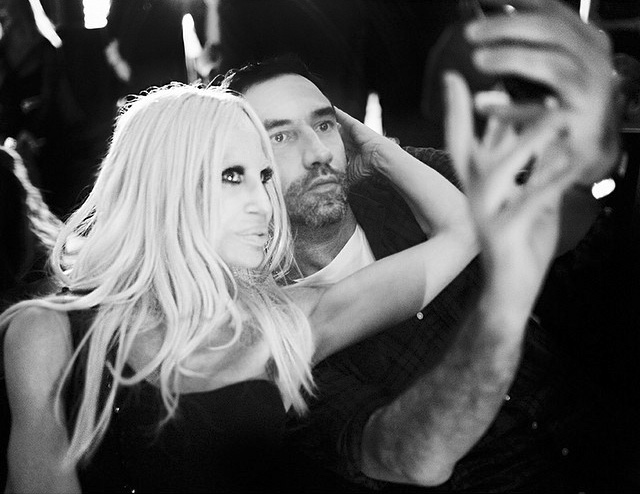 Image courtesy of Versace via Instagram
Atelier Versace's Triumphant Bash at L'Arc
Accolades and champagne rained on Atelier Versace's after show party at L'Arc nightclub in Paris. Highly acclaimed by fans and peers alike, Donatella's excellent Couture Week kick-off show certainly deserved such a grand reception. Givenchy's Riccardo Tisci
remarked
, "She is my icon, as she is for a lot of people. If I am a designer, it's because I loved Versace as a kid." Apart from the prestigious attendees––Cameron Silver, Brian Atwood, Kate Hudson, and Anthony Vaccarello included––Ellie Goulding's performance and Michelle Rodriguez as celebrity DJ are definite highlights.
Partying for a Cause at the 2015 Sidaction Gala
The Sidaction dinner gala closed Couture Week, and earned close to $800,000 for AIDS research. The traditional fashion event is one of the biggest AIDS charity events of the year. This year's gala was attended by Chloé designer Clare Waight Keller, Sonia Rykiel, Tory Burch, Pierre-Yves Roussel and a host of other fashion and entertainment personalities.
Celebration of Couture at Chez Castel
Amidst the fetes and celebrations typical of Paris Couture Week a new, more sinister tradition has begun––the uber exclusive couture celebration party at Chez Castel. Co-owner André Saraiva
says
, "We're not selling anything, we're just celebrating Paris with the people we love and think are cool." The obvious question is––how does one meet Saraiva's standard of cool? This question may be unequivocally answered by Giambattista Valli, Kristen Stewart, Elie Top, Emmanuelle Alt, and Alexia Niedzielski. Organized by Mademoiselle Agnès, Olivier Zahm, and Saraiva, the party boasted A-list guests, foie gras, dancing, and a surprise performance by Cécile Cassell.