GQ's Editor Dylan Jones on the Booming Menswear Industry
When The Industry announced the formidable editor of British GQ, Dylan Jones, as 2015's first guest of honour, the attendee list for the meeting at the Condé Nast College of Fashion & Design was filled immediately. Not only is he the brains behind Britain's most renowned men's magazine, but he's also the chairman of London Collections: Men––and with men's fashion week neatly wrapped up in the capital, The Industry's timing could not be more apt. Covering hot topics and hard issues, Dylan was interviewed by Sarah Penny––editor of Fashion Monitor––and offered straight-spoken advice on the media industry and exclusive insight into the inner workings of the bourgeoning men's market.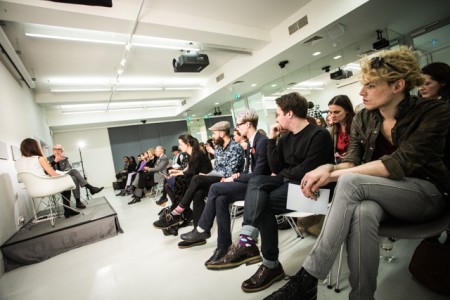 The Industry Members get an insight into Dylan Jones' world at GQ.
Industry insiders such as retail entrepreneur Harold Tillman, Industry advisor and Harvey Nichol's consultant Frances Card, founder of eponymous denim retailer Donna Ida Thornton, principal of the Condé Nast College Susie Forbes, director of Fashion Scout and Graduate Fashion Week Martyn Roberts, super blogger Navaz Batiwalla of Disneyrollergirl, jewelry designer Sarah Angold and Candid Magazine's Joshua White and Danny Keeling made up the audience. Other familiar faces included blogger, Ella Catliff of La Petite Anglais, Sapphires Model Management founder Neely Reyes and Hoxton Radio founder David Harris. Attendees enjoyed a monochrome sweets buffet from Sugar Tables London complete with #INDxGQ hashtag printed cupcakes. The entire event was filmed for IND-TV by The Industry's film partner, RUN Productions.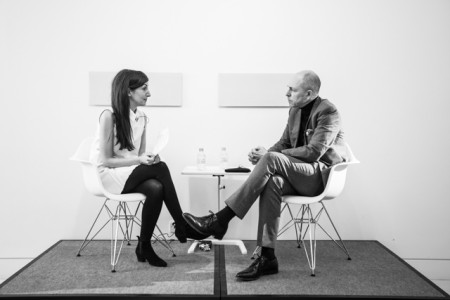 GQ Dylan Jones, The Industry's guest of honor.
Discussing the rise of London Collections: Men and his ascent to the top of the GQ masthead, Dylan told members that in order to succeed, you need two things: work ethic and luck. He told the audience, "You need to work harder than you ever have in your life and you need to be lucky at a young age – and I was lucky, that's how I got into the industry."
"15 years ago it would have been very difficult to put a man on the cover because it wouldn't have sold," explained the editor, who pioneered the introduction of high-end designer editorials, luxury lifestyle, and political content in the magazine. Fast-forward to 2015 and GQ is outstripping competition with the likes of Pharrell Williams and Benedict Cumberbatch gracing its covers. Menswear is rivaling the commercial worth of womenswear and fashion is a bigger business than cars: "Now everyone wants to be involved in the fashion world," he said.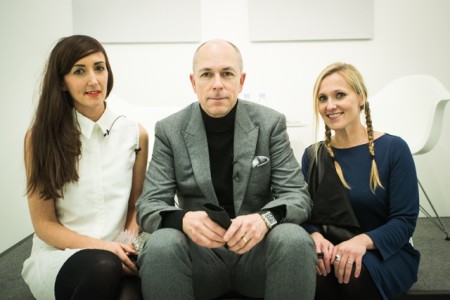 Sarah Penny and Dylan Jones with the founder of The Industry, Courtney Blackman.
"I don't see why men's fashion week shouldn't be as big as women's fashion week in any city," he concluded, explaining that London's eclectic mix of fashion, parties, and dinners make it attractive to buyers flying across the world. He went on to say that "British menswear has the recognition of globally being the best in the world and we own every youth culture that has ever been invented––commercially I'd like to see that replicated."
Representatives from Harvey Nichols, Browns, Candid Magazine, The Times, PHOENIX Magazine, Mayfair Times, Fashion Monitor, Celebrity Intelligence, Petrie, M&S and COS were also in attendance.
Credit: Sam Atkinson for The Industry