Cara Delevingne's EPIC Night at Chanel: Singing, PDA's, and More
Cara Delevingne had a busy night last night at Chanel's Metiers d'Art show in New York last night. While the cruise event was held in honor of Karl Lagerfeld's creations, all eyes were on Cara as she bounced all over the party from her model BFFs to celebrity inner circle and even to the stage.
Cara's first order of business for the evening was a very necessary reunion with model BFF Kendall Jenner. The two had been separated since Chanel's Paris fashion show in March, and the two joined in an epic hug that involved
jumping and foot popping
. The moment was captured by fellow BFF Gigi Hadid, who captioned the photo, "If this isn't love, I don't know what is…" on Instagram.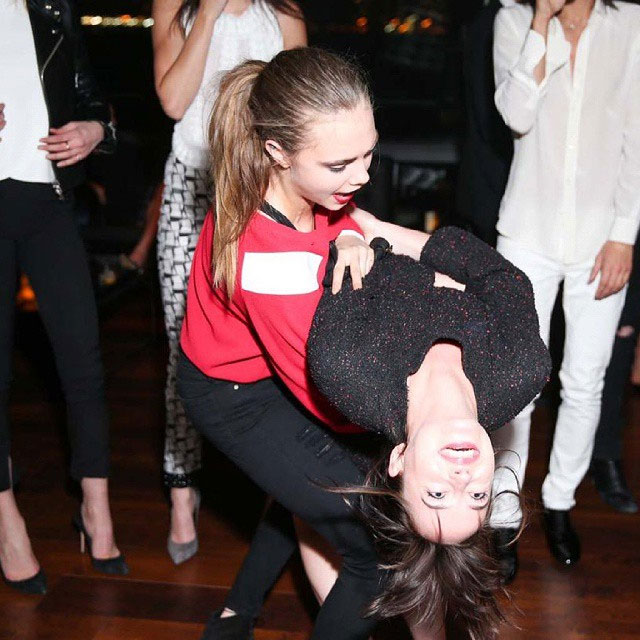 Cara playfully dips Dakota Johnson on the dancefloor. Image via Instagram
Cara also couldn't help but show some love to
Fifty Shades of Grey
actress and friend Dakota Johnson. The two were spotted laughing, holding hands, and even dancing the night away.
The 22-year-old model's biggest moment of the night, however, was when she took the stage with Pharrell to perform their duet 'CC the World', which was
first premiered in their Chanel film, Reincarnation
.
In addition to showing off her vocals and enjoying her night with friends, Cara was also spotted
taking selfies
,
posing with the Statue of Liberty
, and even
hanging out with children
, proving once again that she really can do it all.