Rihanna Pulls Off Best April Fools' Joke Yet
Rihanna is taking this year's title for Best April Fools' Joke, hands down. The 27-year-old singer, who is a huge fan of Jimmy Kimmel's annual April Fool's pranks, turned the tables on the TV host by bursting into his home while he was sleeping.
Rihanna teamed up with Kimmel's wife, Molly McNearney, and staged a performance of her new single "BBHMM" in his home. The singer snuck into Kimmel's home early in the morning armed with backup dancers, a strobe light, cash and confetti and burst into his bedroom while he was still asleep.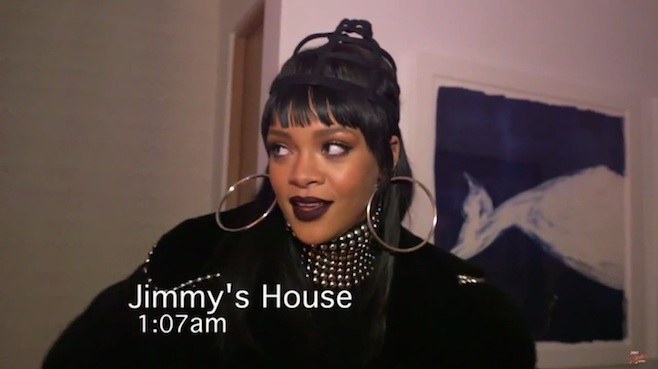 Rihanna jumped on Kimmel's bed, performed "BBHMM", and left saying, "I want my money Jimmy." All the while, Kimmel is still half asleep and has no idea if he is dreaming or not. Watch the video below:
Rihanna later joined Kimmel on
Jimmy Kimmel Live
to discuss her prank. Kimmel admitted, "That's not usually how you come to me in my dreams!"––but we're pretty sure that's how Rihanna appears in all of our dreams.