Supermodel Karlie Kloss Giving Coding Scholarships to Young Women
Best known in the industry for her down to earth personality, long legs and being BFFs friends with Taylor Swift, supermodel Karlie Kloss is adding one more reason to the list of reasons why you should know her name. The 22-year-old model is now giving out scholarships to young women who want to learn how to code.
Karlie has partnered with the Flatiron School in New York to create
Kode with Karlie
, a scholarship that is dedicated to teaching young women between the ages of 13 to 18 how to write computer coding. Karlie previously took coding classes at the Flatiron School earlier this year and told
Vogue
, "Coding is fascinating. Everything around us, the world we live in today, and the future is written in code."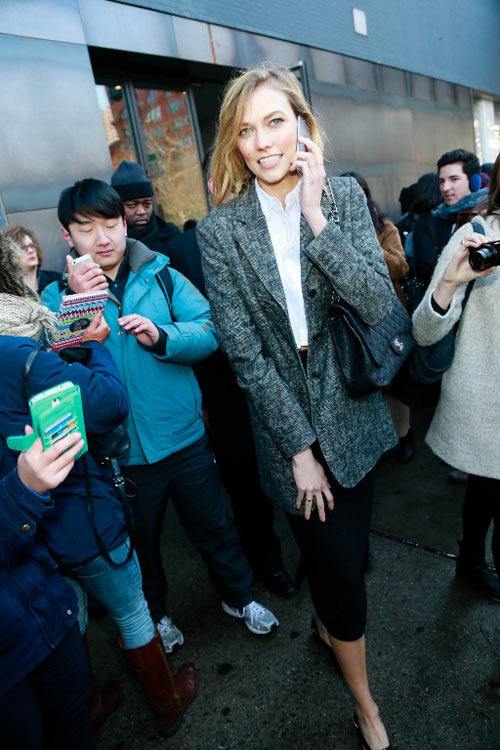 Charles Eshelman / Picture-Alliance
The scholarship will be awarded to 20 girls, and those who are interested
can submit a 60 second video
detailing why they are interested in taking the same coding classes that Karlie took. Karlie is a known advocate of educating young women, having
given up her Victoria's Secret wings
in lieu of a college degree and speaking as a panelist at the SXSWStyle technology conference earlier this year.
In an interview with
BuzzFeed
, Karlie gushed about her scholarship saying, "I'm so excited to partner with the Flatiron School to launch the Kode With Karlie scholarship and give twenty young women a chance to spend two weeks with other coding students learning and having fun this summer! If one girl leaves the course inspired to keep learning code, I'll be happy!"
Karlie also stressed the importance of motivating young women to become involved in the world of tech, saying, "It doesn't matter if you're a fashion model or high school student, understanding code is so important because it's the language that runs our world! Young women are shaping the world we live in and code is a tool for us to continue to have a big voice and say in our future."
With only 12% of all computer science degrees in the United States going to women, it is increasingly important for women to be given equal access and to be motivated to join the industry of technology. Karlie states, "I think it's crucial that young women learn to code as early as possible to ensure that we, as young women, have a voice and a stake in what the world looks like."
For more information about Kode with Karlie, visit Flatiron School's official page
here
.