Designer Takafumi Tsurata Confronts Fashion's Lack of Diversity at Tokyo Fashion Week
While cultural appropriation disguises itself season after season as the next must-have trend and critics follow suit by lamenting behind their computers over the severe lack of diversity on the runway, one designer is confronting the problem head on. Designer Takafumi Tsurata of the Japanese label Tenbo has shown us what diversity on the runway could actually look like for the second season in a row.
Last season, Tsurata gained international attention for featuring
disabled models on his runway
. This season, Tsurata again pointed towards the industry's lack of diversity by featuring models of all shapes, sizes and walks of life; staying true to
Tenbo's mission
of creating clothes for "all people of the world." In a statement about his show,
Tsurata stated
, "It is just natural for me that there are models with different personalities [...] You may think such a world is like a utopia, but it is the real world we live in. I want to showcase it through fashion."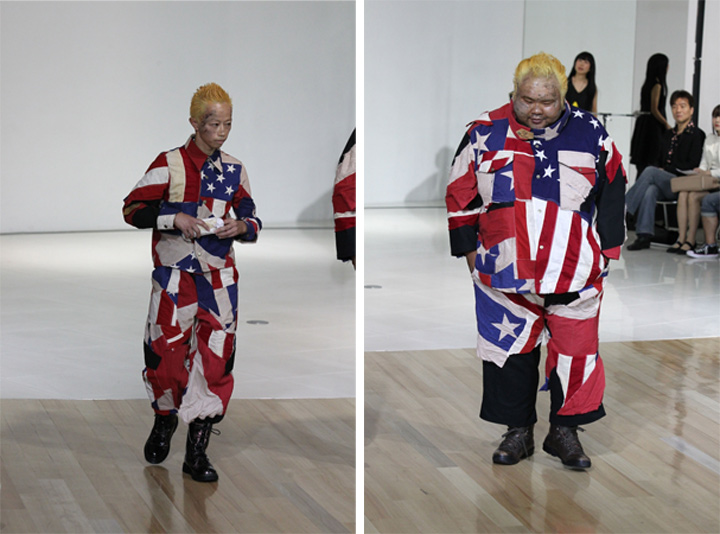 Models dressed as "Little Boy" and "Fat Man" to represent the atomic bombs that hit Hiroshima and Nagasaki, respectively.(PHOTO: MERCEDES-BENZ FASHION WEEK TOKYO)
Diversity on the runway wasn't the only thing that Tsurata addressed this season, however. Tenbo's Spring/Summer 2016 collection also had an underlying political message.
Tsurata told AFP
, "The theme is 1945. It is a tough subject, but I thought I can express it through fashion," and that's exactly what he did. References to the atomic bombs that destroyed Hiroshima and Nagasaki were made openly, while models from all backgrounds joining together on the runway gave way to a larger message of peace––which seemed especially relevant given Japan's current political state.
Models Ami Sano and Hitomi Goto. (PHOTO: MERCEDES-BENZ FASHION WEEK TOKYO)
While Tsurata was successful in both his brand's mission and creating an ongoing dialogue, the larger issues of the industry's lack of diversity and designers' continued commodification of cultures they have no claim to still remains at large. Mercedes-Benz Fashion Week Tokyo even put a disclaimer in Tenbo's show program stating that the opinions expressed on Tsurata's runway did not necessarily reflect the event's as a whole. While the industry is taking a stride in the right direction, there's no denying that there's still a long way to go.