A Piece of South America in the Heart of Warsaw: Q&A with Chef Martin Gimenez Castro from Salto
Chef Martin Gimenez Castro is an Argentinian chef putting Latin cuisine on the map in Warsaw. He made Poland his second home after marrying a native and settling down. But what hasn't settled is his constant drive to push boundaries in the culinary world by creating a delicious fusion of flavors reminiscent of his homeland. He is no stranger to the international palate, having worked at various locations around the globe, and his restaurant Salto can attest to his accomplishments as an Argentinian with a mission to show Poland what South American cuisine is all about.
Read more about his thoughts below!
Tell us a bit about your restaurant.
My restaurant is a place where I can show my roots the way I'd like them to be. It's exactly my point of view, where you can find South American tradition mixed with technology and new culinary techniques. I treat all my customers as if they were guests in my own home, so they can feel warm and welcomed.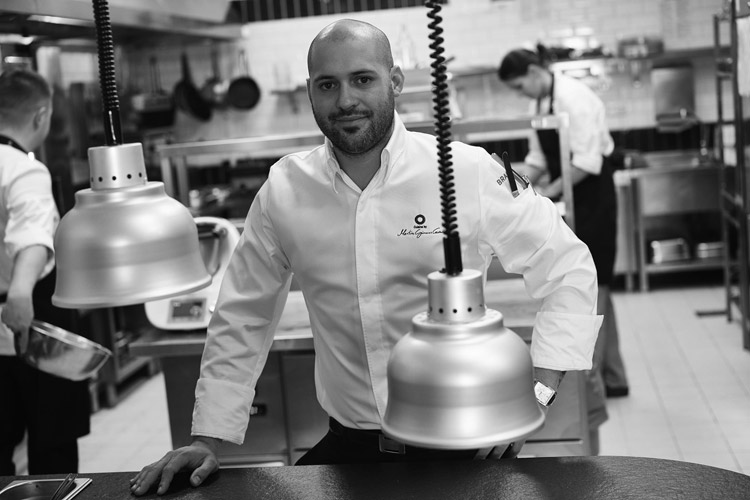 Chef Martin Gimenez Castro from Salto.
What is it about Salto the customers enjoy?
I think what they enjoy the most is that we break the rules compared to other restaurants; we use products that others don't because we're unique. We represent a cuisine that nobody else does in Warsaw. We are the only South American fine dining restaurant in Poland so they know that the most important thing for us here is the seafood. And of course, we also specialize in beef.
When creating new dishes, what do you always keep in mind?
I always try to remember what I used to eat back home and do my best to recreate it. I surprise myself by breaking the rules, going far and beyond the depths of expectation. I'm the kind of person who gets the plates out of the kitchen as quickly as possible, and I think this rapid pace keeps my creativity going. To create something, I need to be inspired. That means that my mind needs to be clear of doubt and problems. The best way is to get a glass of good wine and listen to music. Don't think about anything, and eventually, the ideas will come.
"We represent a cuisine that nobody else does in Warsaw."-Chef Gimenez Castro
As a chef, you'd have to be inspired by certain cuisine or ideas. Where do you get your constant inspiration and creativity from?
When I try to look for someone whom I admire, I look to chefs who are from my part of the world: Alex Atala, Virgilio Martinez, Mauro Colagreco or Rodolfo Guzman, because they're doing the things that I'd like to do.
Delectable fish course from Salto.
Do you have any dishes that you enjoy making the most?
My favorite dishes to make are the newest ones on the menu. It's like a newborn. When I create something new, I try to do it all the time and I recommend it to every guest. I feel like a kid with a new toy.
Is there a city/country you'd like to travel to for some culinary enlightenment?
I've mentioned this before, I love traveling to South America because it's home. Or Spain, because of my Spanish roots. New York is also an option because of its quality cuisine and endless food choices. I think it's a city where anyone can get inspired.
If you could describe your restaurant in 3 words, what would they be?
Modern South America.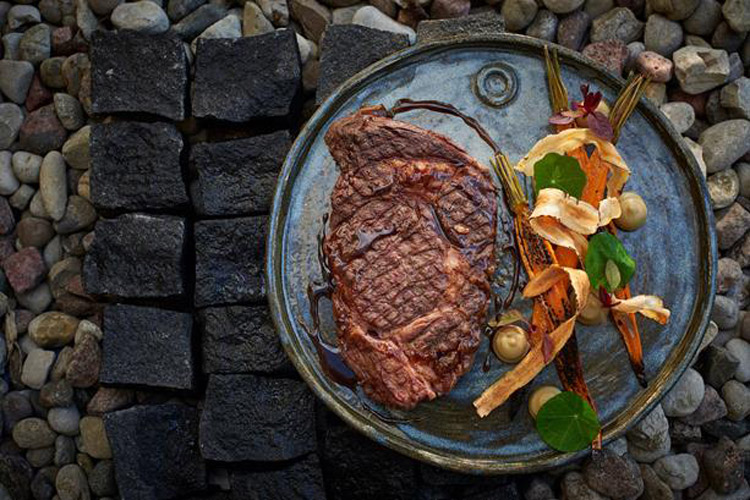 Grilled steak with vegetable garnish.
Any plans for 2017?
Keep going with my head held high and never give up. There's always room for improvement and I always think: Do something good today, do something better tomorrow. And enjoy every day like it's your last. 2017 is going to be just as great as 2018 and so on.
Watch Fashion On A Plate Season 3 to get to know more about Salto, airing Tuesday, October 18 at 20:00 (UTC+2) Warsaw.