George Clooney and Amal Alamuddin Married in Venice!
VENICE
,
Italy
– Over the weekend you could hear millions of women's hearts breaking all around the globe.
George Clooney
(53) – probably the world's most desired bachelor – finally tied the knot with British human rights lawyer
Amal Alamuddin
(36).
Having chosen one of the most beautiful and romantic cities for their big day, the couple married at the Aman Canal Grande luxury resort in Venice last Saturday. Wedding officiant was the former mayor of Rome,
Walter Veltroni
,
Vogue
reported.
The ceremony and the extensive festivities were attended by tons of top class celebrities of the film, fashion and music industry – including
Bill Murray
,
Bono
,
Matt Damon
,
Anna Wintour
,
Cindy Crawford
and many more. Of course countless tourists gathered in hope of catching a glimpse of the star contingent, along with entire armadas of paparazzi who congregated at the canal's docks and on speedboats, trying to get as many rewarding shots as possible.
Supposedly Clooney and Alamuddin started dating in October 2013 and already became engaged in spring 2014. Despite keeping a low profile concerning their relationship, the Hollywood superstar announced the upcoming wedding during his acceptance speech, when he received an award at a charity event in Tuscany, Italy back in July. "I met my lovely bride-to-be here in Italy, whom I will be marrying, in a couple of weeks, in Venice, of all places," Clooney said.
A civil ceremony will be held today, September 29.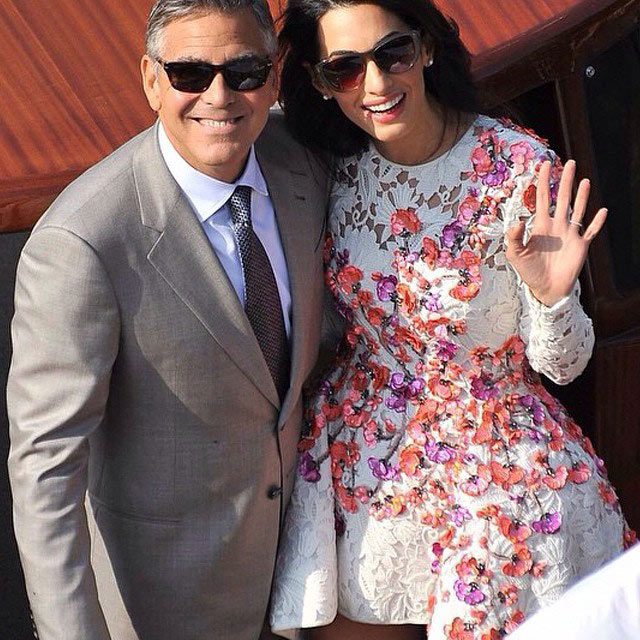 Credits: Instagram