5 Under $75
Holiday season is upon us and that means two things are on my mind: shopping for gifts and the state of my bank account. Shop smart this season with these five Fall favorites under $75.
1. The Long Cardigan
Simultaneously chic and effortless, this oversized duster cardigan is just the thing to update your fall wardrobe. This one is from the UK store Warehouse.
2. The Oversized Bag
With colder weather comes layering and unlayering throughout the day. An oversized bag is perfect for stashing a scarf and sweater without being too bulky. Grab this bag on ModCloth for just under $65.
3. The T-Shirt Dress
Transition your favorite t-shirt dress into winter with tights and thigh-high boots. The layering possibilities are endless. This one is a steal for under $40 at Monki.
4. The All-Weather Boot
Nastygal proves that rain boots don't have to be ugly with their ultra-cool sparkly Chelsea rendition. Buy them online here, before they're sold out.
5. Tassle Earrings
The best part about these earrings is that they combine two fall trends in one; tassel and art-deco jewelry. Aptly named Hollywood Glam, these earrings by Betsey Johnson will go with just about any outfit this season.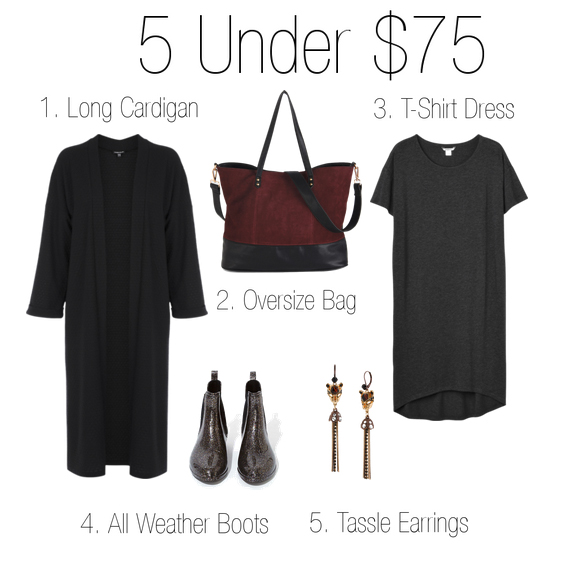 Credits:
Polyvore