Mix it Up
This season, I'm all about mixing different textures together. Whether its velvet and leather or knits and lace, listen to your inner fashion rebel. Anything goes, so break the rules with this one.
1. The Universal Knit
If you don't have one, invest in one ASAP. The perfect knitted sweater is just the thing to keep you stylish and cozy.
2. The Lace Bralette
Lace bralettes are great for layering over, under, or just by themselves. I'm particularly partial to the She's a Knockout Bra by For Love and Lemons.
3. The Velvet Pencil Skirt
I find that pencil skirts often teeter on the edge of uptight or cliché. This velvet version, however, is neither and just the right amount of sexy and sass.
4. The Leather Boot
From ankle boots to thigh-highs, choose your own adventure. For this look, I opted for over-the-knee boots for maximum warmth.
5. The Furry Clutch
While (faux) fur coats remain a winter staple, the furry clutch is the perfect way to stand out of the crowd this winter. This one is a one-of-a-kind piece from Etsy designer Joanna Pybus. Definitely a statement piece.
6. The Wool Hat
Some say that people lose most of their body heat through their heads. Whether or not this is true, keep warm and on-trend this season with a wide-brimmed wool hat.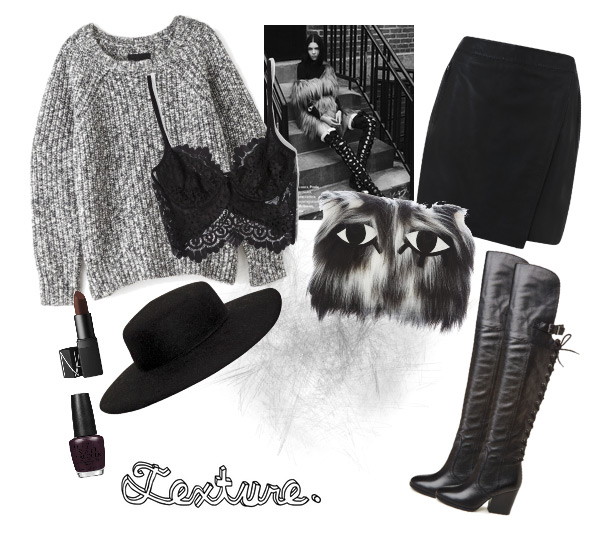 Credits:
http://efemmere.polyvore.com/