The Ultimate Holiday Gift Guide for Everyone
Holiday season is upon us, and that inevitably means standing in long lines and frantic last minute gift shopping. My trick to shopping for gifts is to make my very own Santa-esque naughty or nice list, that way I know exactly what to get for who and I can avoid waiting in lines I don't need to. Don't want to make a list? Don't worry, I made one for you. 
Make holiday shopping easier this season with this fashion forward guide to gifts for all of your friends.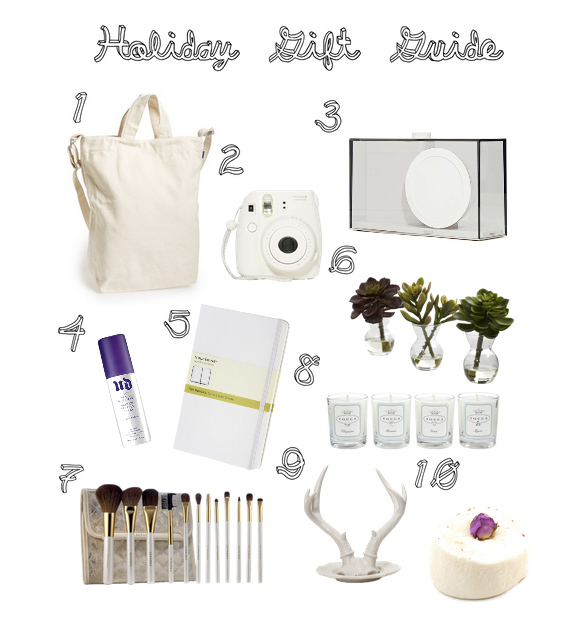 1. The Practical One
Everyone has that one friend who is ready for just about anything, which also means that she has just about anything and everything in her purse. Give this friend the gift of fashion and function this season with this upgraded version of the classic tote bag. At just under $30, this tote by Baggu is both good for the environment and for your wallet. Buy
here
.
2. The Wanderer
This one is for the friend who is always Instagramming from cool, obscure locations. You always find yourself wondering, "When did she go there?". She probably has really fabulous hair and an equally fabulous boot collection for all of her adventures. Gift her a Polaroid film camera to help her take documenting her travels to the next level. Buy
here
.
3. The I.T. Girl
This is the friend that had the new iPhone before you even knew that there was a new iPhone. She has all of the latest apps and is constantly plugged in to just about every social networking site. In fact, she probably had the beta membership to all of them before they were cool. Wrap up this ultra sleek Lenox see-through speaker for a high-tech gift that's savvy and chic. Buy
here
.
4. The Party Girl
She texts you at 7 in the morning, not because she's waking up, but because she's going to sleep and can't wait to tell you about how fun, and probably scandalous, her night was. She's never without glitter or eyeliner, and she's the only one in your friend group that can manage to rock last night's makeup. Urban Decay's aptly named "All-Nighter" setting spray will help keep her makeup on until the sunrise, making this her perfect stocking stuffer. Buy
here
.
5. The Literate
This friend always carries a book in her bag, is only seen at the hippest coffee shops, and is really into French indie films. Buying a gift for her is especially difficult, since she's seen and read just about everything — and then some. Give this friend the gift of an unlined notebook so she can write whenever inspiration strikes, or so she can doodle freely with her daily double shot espresso. Obviously, Moleskine is the only way to go. Buy
here
.
6. The Green Thumb
Often barefoot and beautifully tan, this friend loves to spend time outside greeting nature and the great outdoors. She's not afraid of dirt, buys food from a co-op, and probably does yoga three times a week. Help her bring nature inside this year with this lifelike set of succulent plants. Buy
here
.
7. The Beauty Maven
You know the one. Her makeup is always flawless, and there's never an eyelash out of place. She probably owns all of the Naked palettes and is always asking if she can try a new makeup look on you. What to gift the girl that already has everything? The ultimate brush kit that will never leave her wanting more. Buy
here
.
8. The Interior Queen
In college she had the coolest dorm room, and now she has the chicest bachelorette pad that all of your friends, including you, envy. Her ideal shopping trip is a day spent looking for the perfect furniture to add to her ever-growing collection, and she is always looking for new ways to feng-shui her apartment. This set of Tocca candles won't clash with her interior, and will keep her place smelling as good as it looks. Buy
here
.
9. The Unpredictable One
This is the friend that you've known for years, but somehow, you still can't put your finger on what she's into. Maybe its because she's always changing, or maybe its because she's into a little bit of everything. A Jazz club one week, and a metal show another — you just never know what she'll be up to. For this friend, buy her something that's useful and won't go out of style. This porcelain jewellery holder is just the thing to keep all of her jewellery picks of the moment in one place, until she changes her mind again. Buy
here
.
10. The Last Minute Gift
You've tried your best to find personalized gifts for all of your friends, and suddenly its the day before you're supposed to be exchanging gifts and you've forgot someone! Whether its a close friend, a relative, or a coworker, these bath bombs from Lush are just the thing to keep anyone from feeling left out. I always stock up on these because they're inexpensive and everyone loves them. Have some left over? Treat yourself for all of that hard holiday shopping. Browse the whole bath bomb selection
here
.
Happy shopping!
Credits:
POLYVORE