How-to-Wear: The "Ugly" Holiday Sweater
In terms of dressing, I'm usually an all-black, all-day everyday kind of girl. Call it all of the gift-giving, decor, and home-cooked meals; or better yet, let's blame it on the free flowing wine at family dinner. There's just something about the holidays that brings out the kitschy and cheerful. So today, I want to talk about the holiday sweater. Long deemed tasteless, cliché, and only semi-acceptable when worn by your weird uncle, the holiday sweater is the subject of much debate and discussion. Usually ironic or worn as the punchline of the party, can holiday sweaters ever be tasteful?
Today, I attempt what many would deem as impossible. See the How-to-Wear guide below.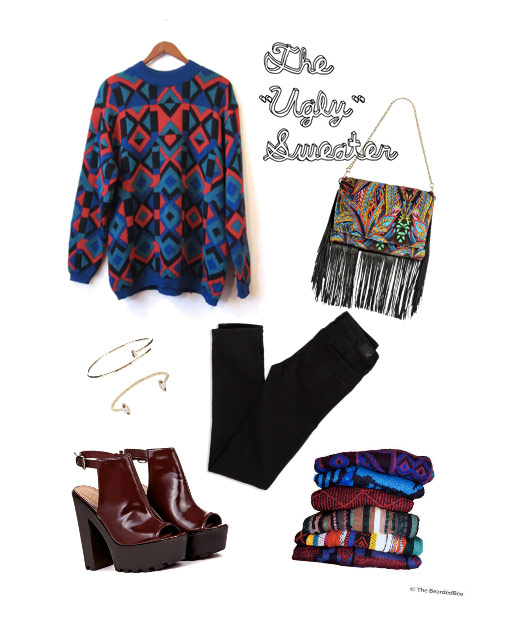 1. The "Ugly" Sweater
For this fashion challenge, I tried to use the "ugliest" sweater that I could find. I chose this one for its strange print and its clashing colors. Anything goes with these kinds of sweaters, so pick your poison at your nearest thrift shop.
2. The Skinny Pant
I've never seen a holiday sweater that wasn't ill-fitting, or shall we say "oversized". For this look, choose a skinny ankle pant to balance out the proportions of the sweater and wear in black to avoid any potential clashing.
3. The Platform
Whenever I think an outfit might be questionable, my go-to solution is to add height. Everyone looks good with a platform shoe and a couple of extra inches. I like this particular pair because the color compliments the sweater, and the peeptoe keep the look feeling playful.
4. The Print Bag
Many are going to disagree with me on this, but I think that this is one of those situations that calls for mixing prints. The key to mixing prints with this look is to pick a print that's still in the same general color scheme. Your friends will applaud you for pulling off such a bold look.
5. Accessories
To finish this look, pair with minimal jewelry. Don't go for a necklace, as its likely that your sweater will be distracting enough without the added glitz. Instead, try one to two bangles or a statement ring.
Call me crazy, but I think this look is growing on me.
Tacky or Tasteful? Leave your comments below.