Katy Perry Fails to Score with Super Bowl Nails
Katy Perry is the latest celebrity to snap a photo of her––tragic––nail art. Following the release of her
"leaked" Super Bowl song
with Lenny Kravitz, the 'Teenage Dream' singer also uploaded a photo of her Super Bowl-inspired nails on
Instagram
with the caption, "Even my tippy toes are ready." The photo pictures her toes painted to look like footballs with a brown polish and white detailing. Though we're a little questionable about such a literal interpretation of this American pastime, we do love any occasion to wear nail art.
Whether you're rooting for the Patriots or the Seahawks, or just watching as an excuse to day drink and eat carbs, gear up for Super Bowl Sunday with these football-inspired looks.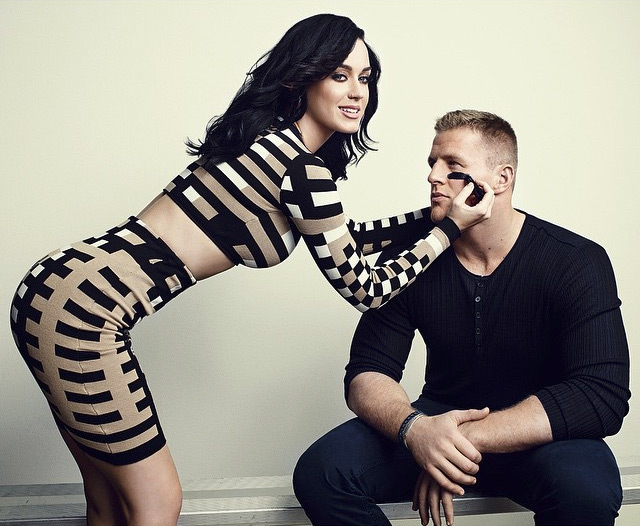 Katy Perry giving Justin James eye black for ESPN. Image courtesy of Katy Perry via Instagram.
For Patriots Fans:
Patriotic nail art is only acceptable on two occasions: Fourth of July and the Super Bowl. Show your support for the Patriots on Super Bowl Sunday with this red, white, and blue look.
For Seahawk Fans:
This blue and green plaid manicure is much more subtle, and tasteful, than Katy Perry's football nails and is perfect for Seahawks fans.
Just Here for the Food and Drinks:
If you couldn't tell already, I'm one of these people. Hide the fact that you are blatantly uninterested in football and only "watching" the game for the pizza and beer with these festive nails. Orange is associated with football, right?
Just because Katy failed to score with her Super Bowl nails, doesn't mean that you have to too.
Share your interpretation of these looks on Instagram and Twitter by tagging #FashionOneLook.