Victoria's Secret Angels Pre-Game the Super Bowl
Playlists, parties, commercials and more––it's no secret that the Victoria's Secret Angels are huge fans of the Super Bowl. In the latest Victoria's Secret–Super Bowl collaboration, Adriana Lima and Erin Heatherton co-hosted last night's Leather & Laces Super Bowl party in Phoenix, Arizona. Other Angels in attendance included Behati Prinsloo, who wore a leather chainlink skirt with matching bralette, and Lily Aldridge, who wore a daring scarlett lace-up dress.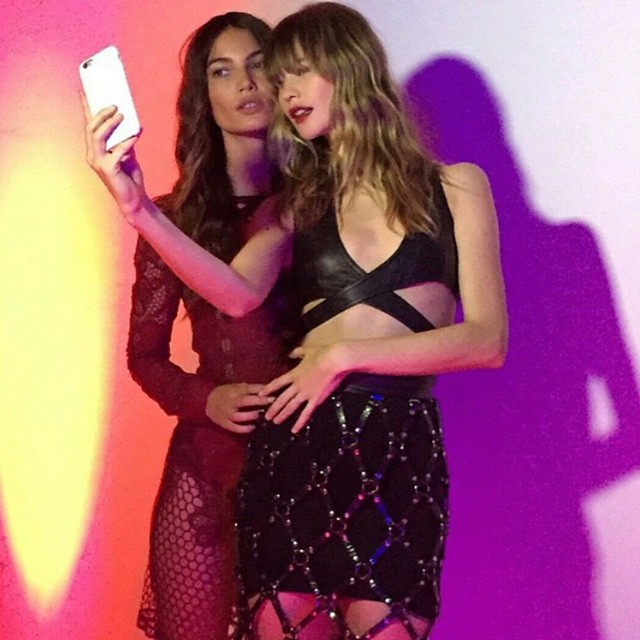 Behati Prinsloo and Lily Aldridge take a selfie. Courtesy of Behati Prinsloo via Instagram.
The Angels also star in this year's
sexiest Super Bowl commercial
where the super models can be seen getting down and dirty by tackling each other, scoring touchdowns, and proving that they really can do it all.
If that doesn't make it clear that VS Angels love the Super Bowl, Erin Heatherton––who has starred in the hit TV series about football,
The League
––told Elle that she prefers the Super Bowl to Fashion Week. When asked what she is planning to wear to the Super Bowl, the Angel replied, "A Bears shirt. It's such an ironic thing to wear. Everyone's looking at you and you know they're thinking, 'The Bears suck! What are you even doing here?'".
Behati Prinsloo also gave insight into how she'll be spending the Super Bowl. According to
Pret-A-Reporter
, the Angel will pre-game the game by listening to 'Just a Girl' by No Doubt and 'Uptown Funk' by Mark Ronson. Unfortunately, hubby Adam Levine's music didn't make the cut for her Super Bowl playlist.