TOMS: One-To –One Global Movement
A decade ago, American traveler Blake Mycoskie visited South America and befriended a group of poor children in a village in Argentina. He discovered that they did not have any shoes to wear. Out of kindness and warmth, he started TOMS, a company that would match every pair of shoes purchased with a pair of new shoes given to a child in need. From shoes, the brand has expanded its collection to include eyewear, bags and apparels.
TOMS' main concept of One-To-One means that with every purchase the consumer makes, TOMS will help a person in need. TOMS is in business to improve lives and help the destitute.
The Gift Of Shoes
For every pair of shoes purchased, TOMS would give out new shoes made for school and play under its Giving Shoes project. The shoes given are brand new and come in a multitude of styles and offer a range of sizes to fit kids from toddlers to teens.
The Gift Of Sight
TOMS Eyewear purchases provide a person in need with a full eye examination by trained medical professionals. With proper diagnosis, each patient then receives the required treatment he or she needs. TOMS supports treatments for three of the most common vision issues and they are prescription glasses, sight-saving surgery and proper eye treatment for those suffering from eye infection, eye trauma and corneal ulcerations.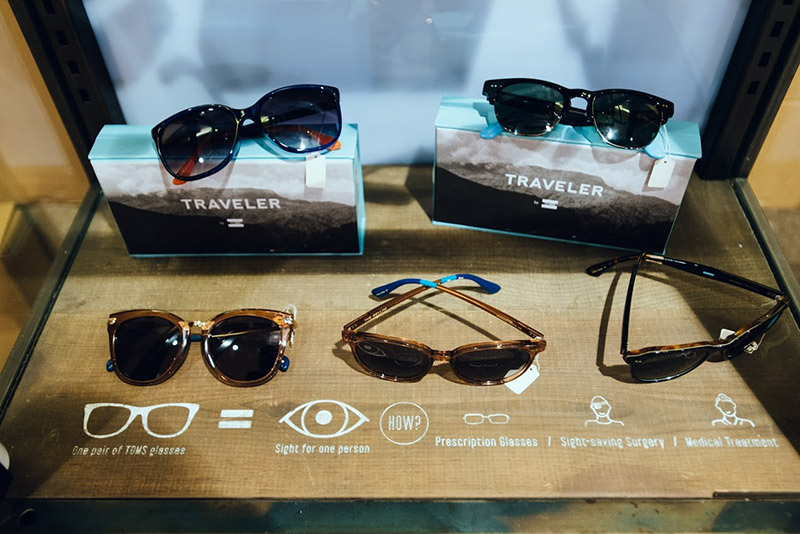 The Gift of Water
Many people in third world countries do not have access to clean water and to safe water systems. For every packet of Coffee Beans purchased, the company will provide 140 litres of safe water which is a week's supply of clean water to a person in need. TOMS work with Giving Partners who have the expertise in water, sanitation and hygiene to help create sustainable water systems in regions where the coffee beans have been sourced.
TOMS Giving Partners are non-profit humanitarian organizations which help to achieve the One for One promise which TOMS has made to its customers.
The Gift of Safe Births
The mortality rate in third world countries is extremely high. Many women and their newborns die from childbirth resulting from infection. TOMS Bags purchases support their Giving Partners in delivering the vital materials and crucial training needed to help provide a safer birth, regardless of the facility. With proper training and appropriate materials to provide a safe delivery, mothers are up to 80% less likely to develop an infection during childbirth and almost half of newborn deaths can be circumvented.
The Gift of Kindness
TOMS High Road Backpack purchases goes a long way to provide proper training to school administration and staff including crisis counselors to help prevent and respond effectively to instances of bullying.
Outliers Global
Outliers Global, the exclusive distributor of TOMS in Singapore & Malaysia has brought TOMS One-To-One global movement to Singapore. In July 2016, they opened their first store in Singapore at Millenia Walk.
"We are very honoured and excited to open our first store in Singapore," said Mr Fahmi Zawawi, Director of Outliers Global, the exclusive distributor of TOMS in Singapore & Malaysia. Singapore is a very important market for TOMS and we are very confident of the market despite the tough retail climate.
TOMS Singapore marketing in-charge Batrisyia Hasshim added "Besides sales performance, our key objective is also to create awareness that TOMS is in business to help improve lives. We identify global needs and create products to help address them. This simple idea is what makes us more than a company –we're a movement that's continually evolving."
TOMS Millenia Walk Store is located at: 9 Raffles Boulevard, Millenia Walk #01-83, Singapore 039596 Operating Hours – 11am to 8pm daily Website: www.toms.com