Ecoology for a Better World: Q&A with Eco brand Ecoology
Barcelona based brand Ecoology is making strides for a greener future. They're changing the landscape of the fashion industry by using organic materials and creating stylish pieces that'll quench your desire to remain effortlessly chic. Dedicated to their work, this brand is everything eco conscious people can dream of. From tackling social issues to designing a new lingerie line, Ecoology is the one to watch for all your eco friendly needs.
Learn more about Ecoology below!
What is the inspiration behind your most recent collection?
It's all about feeling good in your own skin. Wearing clothes that make you feel good because they didn't pollute the environment. People that love this planet, eco souls and smart characters are my inspiration. It's more about the lifestyle than it is about fashion.
What is your thought process like when creating new collections?
I always keep in mind creating my pieces with sustainable fabric. To be honest, the fabrics themselves "decide" most of the shapes in my collection. The rest comes by mixing those fabrics and colors and making wearable pieces. I want to make clothes that last in your wardrobe, clothes that won't go out of style the following year. So, it's not really about fashion, is about creating an ethical and eco way of getting dressed.
What's next for Ecoology?
Working on a new project, an organic lingerie collection, very excited.
Who is the Ecoology girl or guy?
It's someone who likes to know who made their clothes and what materials were used. Our customers trust us and feel happy wearing ethically made clothes. No fashion victims, just conscious people.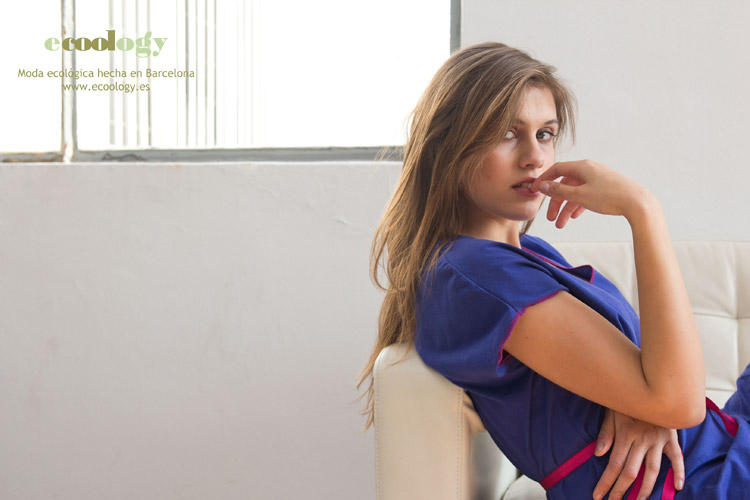 Model wears dress by Ecoology.
Where do you find your daily source of inspiration?
I like to observe people. Mostly in the way they dress on a daily basis. I also love seeing old pictures of fashion icons, that's an amazing source of inspiration. Oh! The 60's and 70's are always a great source, a muse that always remains beautiful.
Why is it so important for you to make products that are eco conscious/friendly?
The fashion industry is very contaminating, fast fashion is like poison to the world. I think it's not necessary, all that speed, all that waste. There are overworked and underpaid factory workers, slaves basically, making five dollar t-shirts. We shouldn't be dressing for cheap and neglect the fact that these workers are living a miserable existence. We make clothes for those who care about how things are made. For those who want to know who exactly made their clothes and still look cool wearing them.
If you could make a collection inspired by movie, a city, or a person, what, where, or who would that be?
It would be nice to go back in time and dress all those hippie souls from Woodstock. Breakfast at Tiffany's would be another great choice. I feel that all fashion could be sustainable. It's really up to us to make that decision.
Which celebrity would you want to be the model or spokesperson for your brand?
I would love to see Emma Watson wearing Ecoology.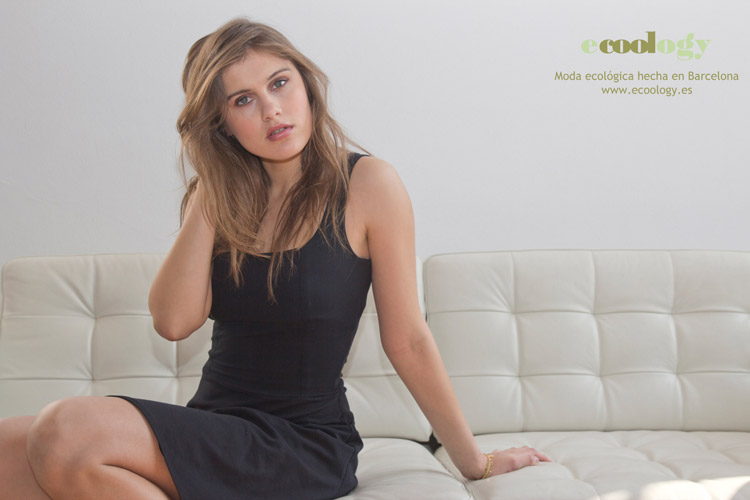 Model wears dress by Ecoology.
What is the first thing you do when you're starting a new work day?
I always think to myself "Today's going to be a great day," full of inspiration and productivity. Every day is different, sometimes it's full of the unexpected, so we need to be mindful of that but still have fun. I work around the city. At my desk, my little workshop studio and other workshops, all based in Barcelona. So, my days are always busy and active, always surrounded by nice people with the same goals.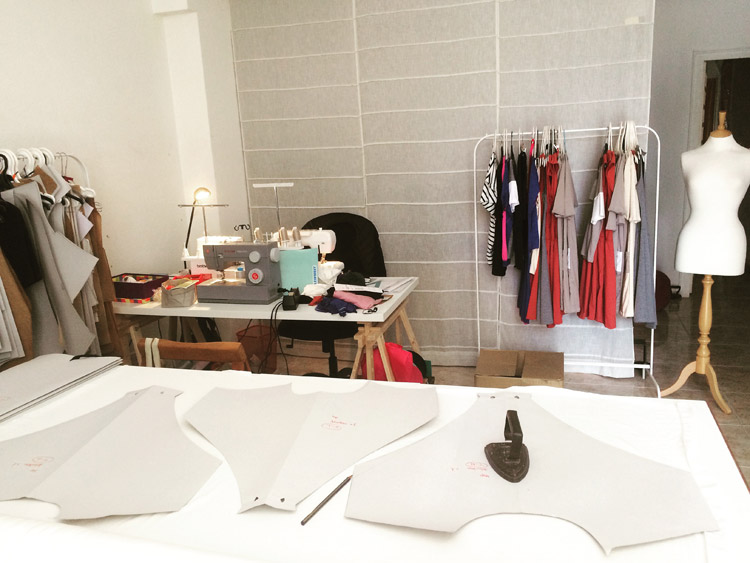 Creative workspace for the brand.
Which designer/brand would you like to make a collaboration with and why?
Hard question! Maybe a mass marketer like Zara; it would help customers become aware about how important is to be an ethical consumer.
If you could describe your brand in 3 words, what would they be?
Eco, Conscious, Friendly.
Catch Ecoology on season four of
Eco Fashion
airing Monday, September 5th at 20:00 (UTC+2) Madrid.