Unapologetically Defiant: Q&A with Fashion Week Tunis designer Naco Paris.
Parisian brand Naco Paris has made its appearance on the runways of Tunisia for Fashion Week Tunis. An eccentric and unapologetic brand, Naco is defying social norms by bringing in a genderless approach to his creations. From questioning society to creating alter egos, Naco Paris is ahead of the curve when it comes to rebellious fashion. Who says being different is a bad thing?
Read more about Naco Paris below!
What was the inspiration behind your S/S 16 Collection?
There's a lot going on behind my collection. I thought to myself, is man trying to hide himself behind clothes or are the clothes hiding behind the man? Are humans trying to protect themselves against the harshness of society, of terrorism, of acid rain, or from other humans? Are corporations selling false hopes and dreams to the masses? Are carbon copies and repeats taking over our own originality? Originality in fashion, music and art is becoming scarce. Contre-Culture is a way out of the endless cycle of repeats. No rules, no god, no master. Everything that I've questioned about society thus far has become my inspiration.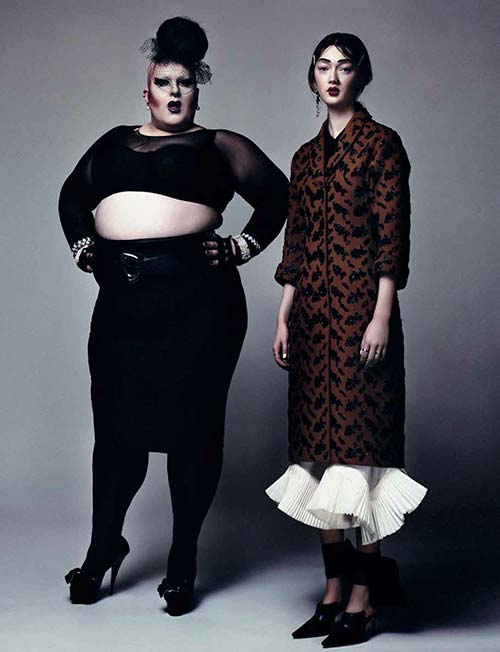 What was your favorite part about participating in Fashion Week Tunis?
When the organizers from Tunis ask me if I'd like to join (this was around May) I automatically said "Yes!" It was kind of logical for me to showcase my collection "No God, No Master" in Tunis, after all that's happened in the Tunisian community in France and the attacks in Paris. My work could take Tunisia into another dimension where freedom is still a new concept. It also resonates with the recent sentiment in France, where some feel a sense of censorship or a loss of freedom. I'm a very free and liberal person, or at least I'd like to believe!
Seeing through your past collections, they're very punk and rebellious, would you consider yourself a kind of rebel as well?
Because I'm young, I feel a strong opposition against the establishment, politics and social norms. The way I can freely express myself is through fashion, art, and performance. Given all the success and notoriety I've been blessed with, I still feel very underground as a designer. It shows in the way I work and in the process of creation and fabrication! And if by rebel you mean "Okay, I have nothing to lose so I'll just do what I want," then yes, I am!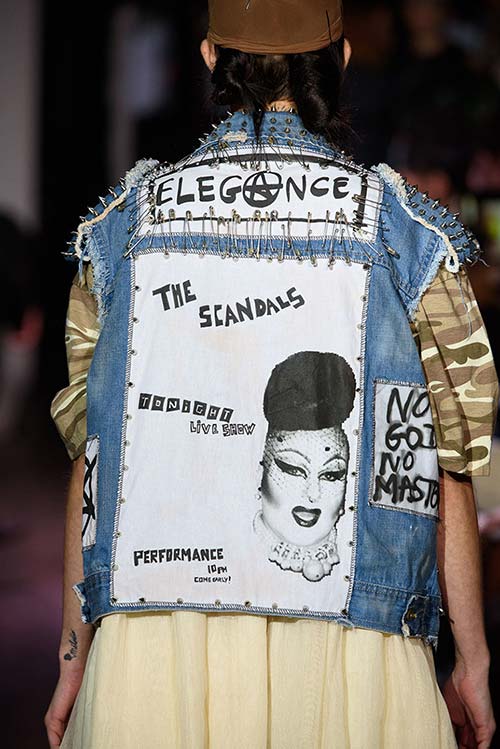 If you had to choose only one color to use for a future collection, what would it be and do you think you'd be up for the challenge?
I often work with a few colors. For my first collection I used black and white. After that I started using a lot of prints, most of which were pictures I took myself and were printed using artisanal silkscreen printing techniques. For my recent collection (AW16-17 Underground Seduction, which is available in stores) I've reverted back to basics, so I try to work with a maximum of 3 colors. I've never just used a single color, it would be a challenge for a lover of all things colorful! My first thought would be to use green because it's my favorite color. My label is green; I had green hair for years. But I have to say, I've often dreamt of doing a "white page" collection. We shall see...
Is there a certain celebrity that you would love to be the spokesmodel for your brand?
A lot of celebrities buy and wear my clothes. I don't do red carpet pieces (or at least not so far). I'm always very flattered when they wear my designs because we don't offer them any. I don't take advantage of the free publicity I'd get if I did offer! *laughs* Seriously, I don't know .... it would be amazing to dress Marina Abramovic for one of her performances!
What's your favorite part about being a designer?
The creation aspect! It's something like 2% of the designing process... I try to focus on it as much as I can. It becomes this encapsulated jewel of a moment when I'm alone in my studio (which is most of the time). It's a kind of trance, when all the research about colors, ideas and form are done, it's molded into this new energy. It's indescribable, it's magic!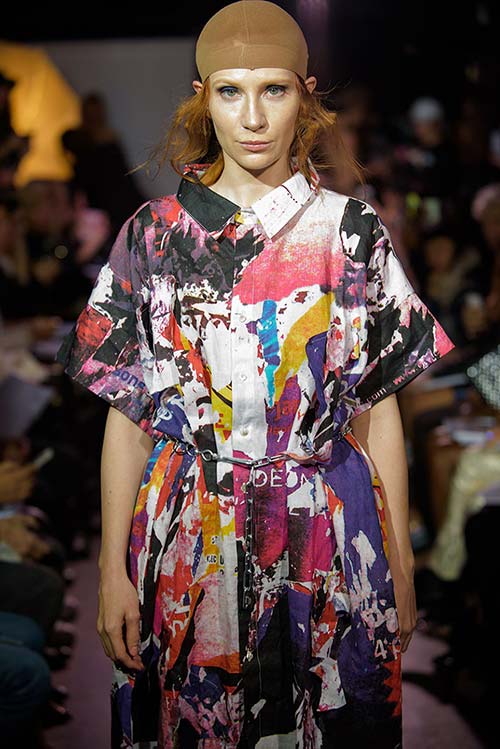 Who is the Naco Paris guy or girl?
Naco Paris is a character I created as a teenager when I promised to change my life because, at the time, my options were...well...they weren't good. Once I became an artist, my whole life turned around. Creativity and creation engulfed my soul.
I also created a second character, Madame Paris. She's a kind of feminine alter-ego of myself. She helped me go out to talk to people, to be more " attractive" and gave me the confidence to perform in clubs and art galleries. She's also a muse for magazines, artists and photographers (I collaborated with L'officiel and with Oliviero Toscani as Madame Paris recently).
I don't really fall into the social construct of being a man or a woman. I'm just human! I don't really dwell on things like gender. I'm over 40 years old and I'm just tired of these labels. I am "myself" and that's enough for me!
It also influences the way I create clothes. I don't really fixate on if the clothes are for men or women. You either wear them or you don't, everyone is a client to me *smiles*. Although, I have to admit that 40% of my clients are men. You know, it's like the time I went to buy a perfume, the staff asked me if I was looking to purchase men's or women's. It drove me mad! I always reply, "I am looking for a perfume I like." Honestly, the younger generation, kids around six years old, they don't care about gender and that's a good thing.
What are three words that would best describe your brand?
Different. Engaged. Underground.
Catch more of Naco on Inside Fashion Week, Tunis airing Monday November 7 at 20:00 (UTC +2) Paris, only on Fashion One.