MICHAEL KORS PRESENTS COMMUNITY SERVICE AWARD TO KARLIE KLOSS AT GOD'S LOVE WE DELIVER GOLDEN HEART AWARDS
On Monday, October 17th, 2016 (NYT), God's Love We Deliver hosted their 10th Annual Golden Heart Awards dinner at Spring Studios in New York City. The evening featured cocktails, dinner and an awards presentation. The star-studded evening helped raise $2 million.
The Golden Heart Awards celebrate the influential contributions of individuals, corporations and foundations to the organization's cause. Funds that were raised at the awards ceremony will help ensure that no person in the NYC Metropolitan area need suffer the dual crises of hunger and life-altering illness.
Michael Kors has many philanthropic commitments, including Watch Hunger Stop, a partnership with the United Nations World Food Programme to help build a world with zero hunger. Launched in 2013, Watch Hunger Stop has raised over 13 million meals for those in need. Over the course of more than twenty years, Michael has given his time and support to God's Love We Deliver, reflecting his deep-rooted respect for this exceptional organization. This year, Michael will have the honor of presenting the Michael Kors Award for Outstanding Community Service to model and entrepreneur Karlie Kloss.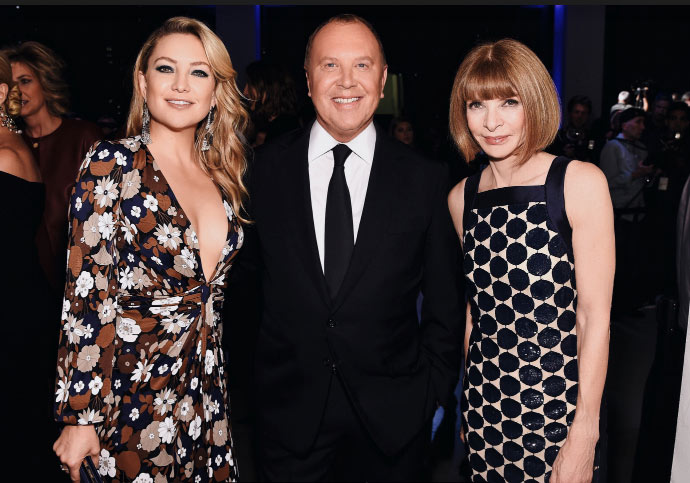 God's Love We Deliver is the New York metropolitan area's leading provider of life-sustaining meals and nutrition counseling for people living with severe illnesses. Begun as an HIV/AIDS service organization, today God's Love provides for people living with more than 200 individual diagnoses. God's Love cooks and home-delivers the specific, nutritious meals that clients with severe illness and treatment so urgently require – 6,000 each weekday. Meals are individually tailored for each client by Registered Dietitian Nutritionists, and all clients have access to unlimited nutrition counseling. God's Love supports families by providing meals for the children and senior caregivers of its clients. All of the agency's services are provided free of charge, and in its history of 31 years of God's Love We Deliver has never had a waiting list. This year, God's Love will cook and deliver more than 1.5 million meals to 6,600 vulnerable New Yorkers. For more information, visit
www.godslovewedeliver.org
. Follow God's Love on Facebook and follow them on Twitter and Instagram, @godslovenyc and #GoldenHeartAwards. God's Love is a non-sectarian organization.
Who
:
Co-Chairs:
John D. Idol, Michael Kors, Blaine Trump, Anna Wintour
The Michael Kors Award for Outstanding Community Service: KARLIE KLOSS
The Golden Heart Awards for Lifetime Achievement: DANNY MEYER
The Golden Heart Award for Outstanding Volunteerism: WING TAT LEUNG
When
:
Monday, October 17th (NYT)
6:30 PM Cocktails
8:00 PM Dinner
Where
:
Spring Studios
50 Varick Street
New York City
Feel free to download the images from below link,
GOD'S LOVE WE DELIVER, GOLDEN HEART AWARDS – ARRIVALS:
http://mm.gettyimages.com/mm/nicePath/gyipa_public?nav=pr472801418
GOD'S LOVE WE DELIVER, GOLDEN HEART AWARDS – INSIDE:
http://mm.gettyimages.com/mm/nicePath/gyipa_public?nav=pr472801459
About Michael Kors
Michael Kors is a world-renowned, award-winning designer of luxury accessories and ready-to-wear. His namesake company, established in 1981, currently produces a range of products under Michael Kors Collection, MICHAEL Michael Kors and Michael Kors Mens, including accessories, footwear, watches, jewelry, ready-to-wear and a full line of fragrance products. Michael Kors stores are operated, either directly or through licensing partners, in some of the most prestigious cities in the world, including New York, Beverly Hills, Chicago, London, Milan, Paris, Munich, Istanbul, Dubai, Seoul, Tokyo and Hong Kong.
Forward-Looking Statements
This press release contains forward-looking statements. You should not place undue reliance on such statements because they are subject to numerous uncertainties and factors relating to the operations and business environment of the Company, all of which are difficult to predict and many of which are beyond the Company's control. Forward-looking statements include information concerning the Company's possible or assumed future results of operations, including descriptions of its business strategy. These statements often include words such as "may," "will," "should," "believe," "expect," "anticipate," "intend," "plan," "estimate" or similar expressions. The forward-looking statements contained in this press release are based on assumptions that the Company has made in light of management's experience in the industry as well as its perceptions of historical trends, current conditions, expected future developments and other factors that it believes are appropriate under the circumstances. You should understand that these statements are not guarantees of performance or results. They involve known and unknown risks, uncertainties and assumptions. Although the Company believes that these forward-looking statements are based on reasonable assumptions, you should be aware that many factors could affect its actual financial results or results of operations and could cause actual results to differ materially from those in these forward-looking statements.