BVLGARI WINTER HOLIDAYS COLLECTION 2016
BVLGARI's 2016 Winter Holidays Accessories Collection twinkle in the cheerful shades of the holiday season. As the year draws to a close, the magnificent Roman jeweller has saved some of its most resplendent creations for last in brilliant golds, silvers and reds that turn the holidays into a party. Inspired by the giving nature of the holiday spirit, BVLGARI introduces a custom-designed selection of holiday bags.
The
QUILTED SCAGLIE
bag in holiday hues brings the seduction of the snake to a vivid new level of colour. In Shiny Gold, Silver, Antique Bronze, and Ruby Red, the bag's design was initially inspired by the 60's high jewellery Serpenti bracelet-watches of multi-coloured enamels. Celebrating the vivacity of the Roman jeweller's personality, BVLGARI revisits its archives to reinterpret these vintage pieces, creating modern leather accessories.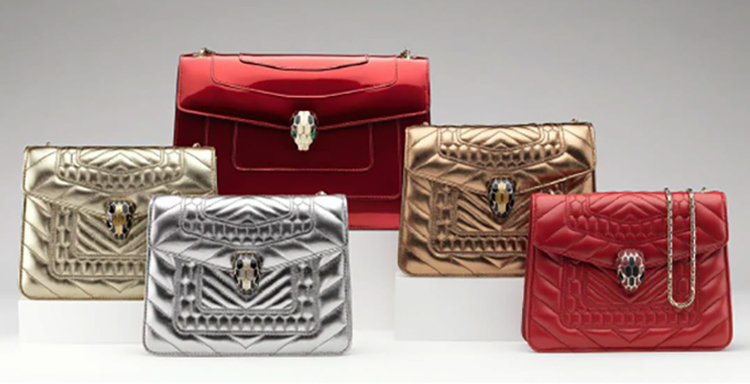 The BVLGARI artisans have also created a cheerful
BRUSHED METALLIC
Calf Leather version in Ruby Red. At the beginning of the Brushed Metallic process, the leather is just a nude, neutral colour. After 16 coloration steps and the drying phases of several hours in between, meticulous BVLGARI artisans are finally able to obtain the perfect brilliant shade, richness and vibrancy through this long process known as the Nuvolato effect. From the Italian word for "cloud," the treatment attempts to imitate the sky, as it is never dulls or goes flat. Instead it is intensely full of rich shades and hues at all times. Then, to ensure a greater leather resistance, the final coating is spread instead of laminated to best protect such a beautiful creation.
GREATER CHINA LIMITED EDITION
A
LIMITED EDITION FOR GREATER CHINA
is highlighted by the internal metal tag where the lining is enriched by precious nappa gold. Available in Brushed Metallic Calf Leather version in Ruby Read and Emerald Green in both medium and small models.
Perfect to complete any holiday look, its glamorous shine proves an ability for year-round seduction.
Official Website : bulgari.com/en-hk/