Nina Ricci Autumn-Winter 2017
The Nina Ricci Autumn-Winter 2017-2018 collection by Guillaume Henry revisits the cowgirl codes of the American West in a mix of references to the rodeo and the circus.
The Nina Ricci woman is a traveler, and she's in it for the fun. The color palette captures a portrait of joyful rodeo girls: soft pastel hues of blue-gray, pink and yellow are contrasted and structured by black, navy and an array of beiges. Stretch materials — lace and lacquered silk — alternate with prints inspired by the corral and the rodeo arena. Leather or lizard patches and trim lend the pieces a luxurious structure. Fringe is handled like fabric. Coats in Mongolian lamb fur or shearling express refinement with an offbeat dash of humor.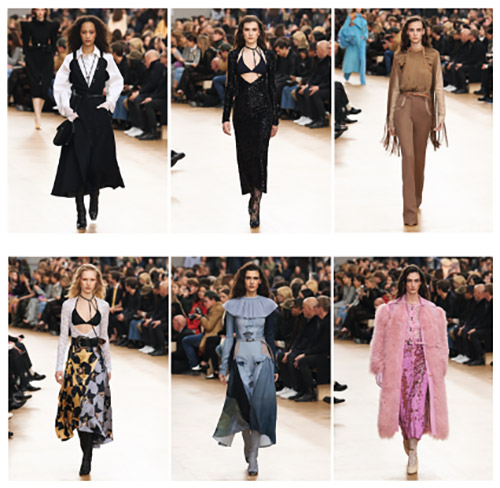 Upon her return to Paris, the pretty dust of Death Valley settles on the Avenue Montaigne. In a sleek and sensual celebration, curve-skimming daywear with bodysuits in sequins, lace or lacquered jersey — are worn under a sky blue quilted coat with a cowboy cut. Plunging necklines reveal bikini top brassieres that are anything but demure. A black and navy sequined stretch dress stirs under a wide-wale corduroy trench with large woven buttons, either in beige or Nevada turquoise.
Sharply constructed high-waisted pants in ski tricot are trimmed in contrasting leather. A Pierrot blouse or a Seventies jacket cut to echo a guitar contour slip down a shoulder, to reveal stretch lace lingerie. Caramel chaps with side restorations reveal the curve of the hip, right where a hand might caress.
The urban cowgirl wears a jacket inspired by the denim classic, a silk twill cowboy shirt with snap closures and a metal-tipped collar cinched with a long bolo tie. A pink Mongolian fur coat with leather patches and woven leather buttons makes an extravagant statement. A quilted skirt with rodeo motifs is paired with a shearling pea coat edged in navy leather. For evening, a sky blue smoking with lizard shoulder details projects the glamour of a heroine from "Dallas".
Shoes slip on like gloves. Mules in textured leather mix with low boots and formfitting thigh boots or shoes in crépe de Chine. Handbags swing to a country beat: the Tupi, the bridle-zip Chimariko and the Mexican saddle-inspired Bronco with a patchwork of stars evoke a beautiful night in the desert.
See the full collection at https://www.ninaricci.com.