Create a Unique Scent with H&M's New Conscious Exclusive Perfume Oils
For the first time ever, H&M's Conscious Exclusive collection includes a set of three ecological unisex perfume oils that can be worn individually, or mixed to create a unique scent. The oils are a part of the 2017 Conscious Exclusive collection including a women's collection as well as pieces for men and kids, with each piece made from sustainable materials. The collection will be available in selected stores and online April 20.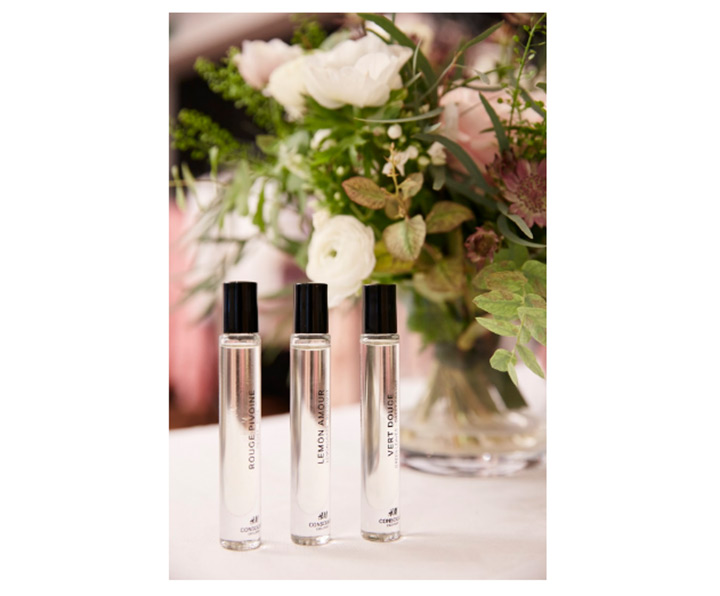 "I love the Conscious Exclusive ecological perfume oils, which capture the inspiration that we found in the human senses. Each of the three scents is beautiful on its own, and creates something totally unique and personal when combined together," says Pernilla Wohlfahrt, H&M's Head of Design and Creative director.
The three ecological perfume oils for H&M Conscious Exclusive are constructed around three different scent groups – floral, fresh and woody. Rouge Pivoine combines topnotes of bergamot, rose and pear with a middle of peony and geranium, the peonies echoed in a screenprint for the women's Conscious Exclusive collection. At its base of Rouge Pivoine is freesia, tea and cedar. The freshness of Lemon Amour comes first from top notes of orange, lemon and bergamot, with a middle of lemongrass and lime, finishing with a base of apricot, melon and guaiac. Meanwhile the woody Vert Douce starts with topnotes of sweet orange, galbanum and elemi, with a middle of green leaves, rose and tea leaves, and a finishing note of cedar and cypress.
The ecological oils, which have been given organic certification by independent association Ecocert, come in roll-on bottles, making it easy to apply, and then to mix together to create a scent that is entirely personal to the wearer.
For organic Ecocert certification, which the H&M Conscious Exclusive fragrance as well as the H&M Conscious Beauty range has, at least 95% of the total ingredients in the product must be from natural origin, water included, and at least 10% of the total ingredients must be from organic farming.
Conscious Exclusive is a key part of H&M's move towards a more sustainable future. Across H&M's entire offering, 26% is now made from sustainable materials, with the goal each year to increase the share. H&M has set specific targets in every product range, such as 100% of its cotton be sustainable by 2020. It is all proof of H&M's commitment to making sustainable, good-quality fashion accessible to as many people as possible. For more information, please visit
http://about.hm.com/en/sustainability.html
.